Designed by CAYAS Architects for the Lion Brewery Group, the Anglers arms extension and refurbishment will be a premiere entertainment destination upon completion in early 2017. CAYAS Architects chose MAMMOTH Panels for a variety of reasons. The designers recognised in MAMMOTH Panels a more suitable and appealing soffit insulation compared to other typically foil-faced products that are more expensive, and frankly, less aesthetically pleasing. The choice by CAYAS Architects essentially boiled down to MAMMOTH Panels being lower cost, better looking, easier to install and having the benefits of being both a thermal insulator and acoustic treatment.
As well as the material properties, the semi-rigid fibre construction of Mammoth insulation panels allow for a seamless, organic finish that is far more aesthetically pleasing than most harsh PIR foil or fibre-faced panels available on the Australian market today.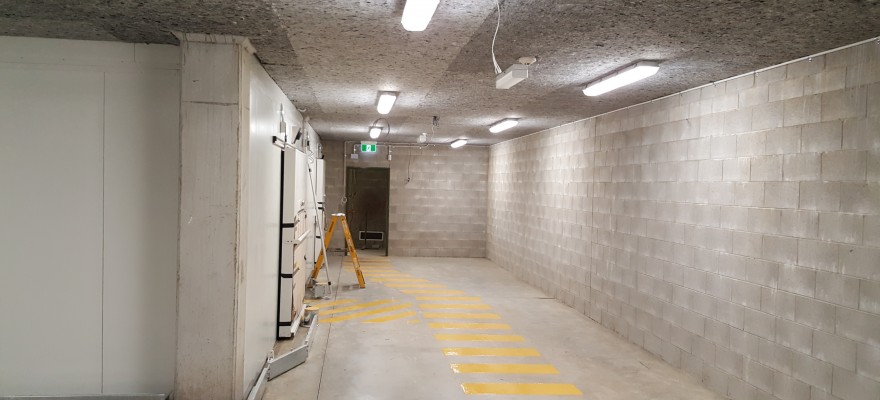 The thermal performance of the panels lead to a reduced need for active heating and cooling, while the acoustic benefits ensure sound transfer and reverberation are kept to a minimum – resulting in comfortable spaces that allow for clarity of thought and mind.
Composed of 100% lofted thermally bonded polyester fibres, Mammoth insulation panels are the first polyester insulation on the market to be given an AS ISO 9705 fire rating. Because of its randomised-fibre construction, Mammoth panels have a far higher rigidity to density ratio than its competitors, ensuring less material is needed – leading to large savings in weight and costs.
Furthermore, the semi-rigid nature of Mammoth panels, allow the material to conform to irregularities common in concrete form-work. While Mammoth panels can be fixed with either glue or fasteners, we at Composite Global Solutions recommend using glue to ensure an even more seamless finish.